ISO 9001 Certified Company
Student Provisioning Services is proud to announce that we are now ISO 9001 certified, reflecting our commitment to high quality and continuous improvement now and for years to come. To achieve this certification, we demonstrated the management and operational practices to ensure that what we deliver to you adheres to the standards you expect. Our quality management system emphasizes service and support because your satisfaction is important to our business. To us, ISO 9001 certification is much more than just checking a box. Certification represents our commitment to continuously improving our performance for our customers. Watch the video to learn what our certification means for you.
Let us show you better way to
automate management of your student accounts!
Our Story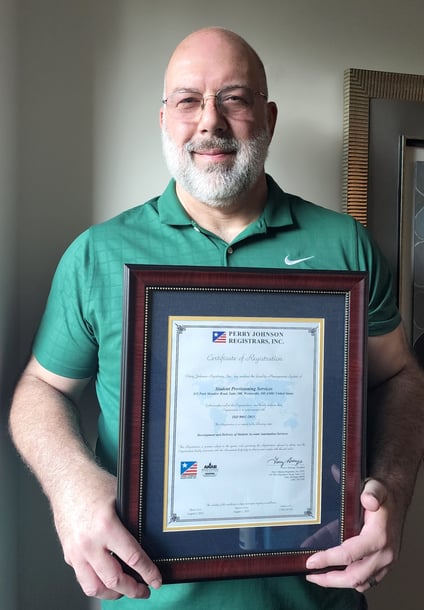 Around 1999, our founder Keith Larson was working at National City Bank, a Fortune 500 company that would be acquired by PNC Bancorp 2008. Keith's role was working in engineering and design for Nationally City's server infrastructure, managing a group of approximately 450 Novell servers.
During this time, Keith discovered that his local school district -- the schools where his children attended school every day -- was experiencing significant challenges upgrading their internal servers. Keith offered to help, and soon discovered that all of their neighboring districts were experiencing the same challenges.
In 2011, Keith decided that there was a market need for a K12 software solution and so he left his corporate job and joined Franklin Computer Services to focus his talents on K12 Schools technology infrastructure full-time. In 2014, many school districts began introducing Google Apps for Education into their Information Technology environments, causing a fundamental shift in classrooms and how students accounts were managed.
During this time period, managing student accounts became incredibly cumbersome in that each student now owned a school Gmail address that allowed access to a greater suite of tools that was being adopted by teachers and in classrooms nationwide. Keith personally experienced the chaos of creating and maintaining all of these accounts for a number of districts, with the month of August being nearly impossible to manage in making sure that every student was ready to start the new school year and ensuring that inactive student accounts were properly disabled. It was during those chaotic times that Keith set out to find a better method of managing and automating a district's student the provisioning process.
In 2019, and after significant development investments in Student Provisioning Services software suite, Keith left his full-time consulting job at Franklin Computer Services to form his company and software solution that was dedicated to student account automation. SPS-K12 is now serving school districts in 18 different states and has partnerships with PowerSchool, Frontline, Skyward and Clever.com. We work with many other Student Information Systems because of our support for the OneRoster API and the EdFi standard.