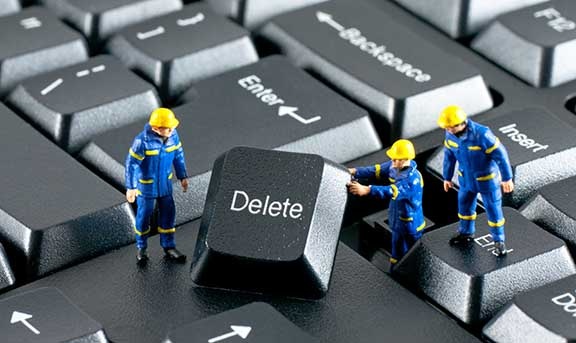 The start of this school year has gone very smoothly for us here at SPS. We had many districts join us this year from several new states. We started new partnerships with several schools that have never deleted any of their accounts from their local Active Directory or their Google Admin Console. This can be quite a challenge when trying to match up currently enrolled students and turn on Google Cloud Directory Sync with Google.

This challenge prompted the March blog titled, "To Delete or Not Delete".
However, this is only part of the picture. Since Google grants schools unlimited storage, it is tempting to keep all accounts forever, but this can create problems if your naming standard isn't guaranteed to be unique at all times with all students. Most are not, but there are some that will pass this test. There is more to be said on this subject from our April blog post "Student Account Naming Standards".
Finding the balance
So, if you aren't going to keep them forever, you need to delete them at some point, but it probably is not immediately upon a student or staff member leaving the district or graduating. Students that withdraw from school, very often come back. The time that they are away can range from a few days to more than a year, sometimes several years. Because Google grants unlimited storage, we want to try to find the balance that allows a student to come back and find all of their data, projects, and creations right where they left them, and keeping the aforementioned items forever.
Compliance
Ideally, your district should have a records retention policy that governs how long you will keep data. This would apply to staff and students, but you may have a different period defined for each of them. Whatever your Board of Education policy says is precisely what you should do. You can be out of compliance for not keeping data, but you are also out of compliance if you say that you are keeping it for three years and you actually keep it for five years. You must follow your policy.
SPS adds new feature, and it's FREE for customers

This brings us to the point of this month's article. If you are planning to keep student accounts for three years, you must have a way to identify accounts that have been inactive for three years so that you could know which ones to delete to comply with your policy. Student Provisioning Services hadn't addressed this in the past, but we have just added a new feature specifically to solve this problem. There is no additional cost; this is part of our commitment to service and adapting to the needs of our customers.

There are two parts to our solution, and they must be executed carefully. If you have been organizing your students by the year that they graduated, you are ahead of the game. You have not have addressed students that withdrew from school. We want to deal with both. We have developed a PowerShell script that will sweep all OU's under a base DN and move them to a defined OU. We recommend that you have a "Disabled Users" OU and then put a year OU under that. If you have never done this before, we would put them all in OU=2018 for everything that was disabled last school year. After the cleanup has been done, SPS can define an OU for "Disabled Users" and will move any disabled user into this OU when they are disabled by our process (identified as an inactive student). We will organize them by school year so that when we roll up to the next school year, we will automatically start archiving to a new OU.

This process allows you to clearly know when an account was disabled and when it is safe to be deleted. If at any time, a student returns to active status, we will move the account back into the normal OU structure for active students. Click here to read more about Google OU and automation.
Safety Check
It is important to know that we have a safety check in our process that allows a district to disable an account while a disciplinary hearing is pending manually. If district staff manually disables the account, SPS will NOT enable this account even when it returns to an active status. However, if SPS disabled the account because they moved to an inactive status, we will enable that account and push it back into a regular OU if they return to an active enrollment status. We have found that this is the best possible way to handle these circumstances.
Looking to take the hassle out of Student Provisioning?