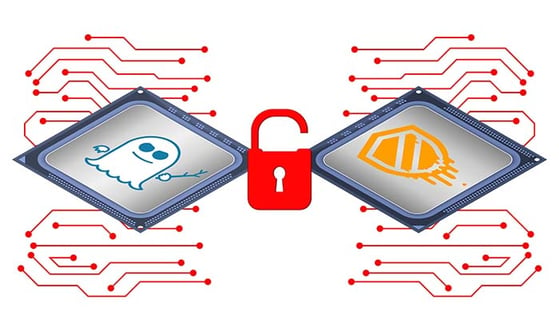 We wanted to take some time to discuss and share some resources about one of the greatest technology challenges that has presented itself to me in a long career in technology. I hate over dramatized headlines, but this is of the size and magnitude of Y2k. Hopefully, if you work in technology, you have been reading about Intel's big announcement of a major flaw in every chip that they have manufactured in recent years. The two vulnerabilities called Spectre and Meltdown impact a substantial amount of technology on our planet.
Because it is a processor design flaw, it will not be completely "fixed" until Intel designs and starts manufacturing chips without the defect. Until then, we can only mitigate the risk by patching operating system software and hardware microcode. All of the major hardware and software manufacturers have responded very swiftly to the issue. The challenge is that in an attempt to respond quickly and negate some of the risks, they were very hasty in their releases and many of the patches started causing significant issues. Some have even made machines unbootable after patching.
At this point, all major companies like Dell, HP, VMware, and Microsoft have released patches and then pulled them back after major issues have arisen. Some have re-released patches that are not causing problems, but others are still working on solutions.
Looking to take the hassle out of Student Provisioning?
Wired.com described the whole situation as a "total train wreck".
https://www.wired.com/story/meltdown-spectre-patching-total-train-wreck/
For technologist working in K12 education, there have been admirable discussions and recommendations on the Technology Coordinator Listserv hosted by the Ohio Department of Education. This is a link to a specific thread on this topic. You will not be able to read this without being a member, but this is an excellent resource for K12 Technology.
The consensus of this group and many of my peers is to stay on the sidelines for now and let the hardware and software manufacturers figure out how to mitigate this problem. Then we can begin the arduous process of addressing this colossal issue for your entire enterprise. There are tools for doing mass deployments of BIOS updates for PC's, but these must be tested extensively because the risk of "bricking" a computer if this process is interrupted in any way is very real. There may be many computers that will never get a fix for this issue because of their age. Unfortunately, all of this implies that is it is time to start having real conversations about replacement hardware.
Student Provisioning Services works with K12 districts of all sizes to implement a customized, fully automated student account management system which allows you to focus on your mission and your students. We understand the data challenges that schools and software developers face. Our product makes student accounts easy to manage. Our solution is scalable, allowing it to grow along with your district. The SPS solution can be partnered with other applications to expand data management to other areas within school districts such as libraries, transportation, food service, and data storage.
SPS-K12 is a subsidiary of Franklin Computer Services Group . Franklin has the brightest and most business-oriented talent in Central Ohio. For 26 years, we have been providing outstanding high-quality service to over 1500 customers. Our long-standing expertise and partnerships with the world's leading technology manufacturers -- including Microsoft, Cisco, Dell, VMware, Citrix, Apple, and HP -- We leverage our extensive spheres of influence to be your single-source provider of comprehensive technology solutions.