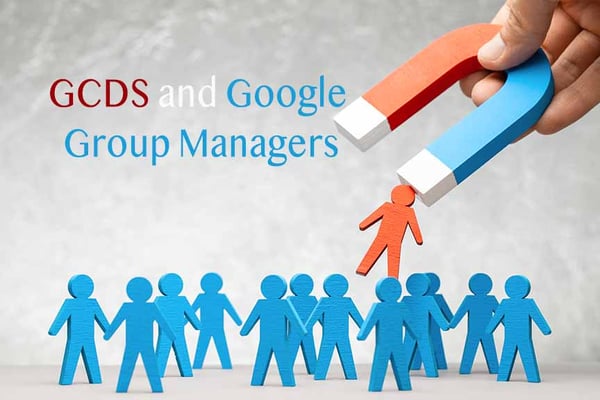 I have some good news for you. Google has added a new feature to Google Cloud Directory Sync (GCDS) that you are going to love if you are managing groups in Google by syncing them from your local directory. It is fantastic, but the default settings are going to create a BIG headache for you if you don't know about this in advance. This is a big deal.
I previously discussed how to sync groups from Active Directory to Google on this blog. You can find that article here.
There is a little more to add to the process now. Whatever you do, make sure that you read this before upgrading to version 4.7.3.
One of the challenges with sync'ing groups is dealing with the managers of those groups. Previously, this was typically done by defining the owner attribute in AD, then this was sync'd to Google as the owner of the group in Google. This was limited in effectiveness because if you are managing groups for students, then you often want several teachers or principals to be managers of those groups. This allows them to monitor activity and possibly even moderate the groups if you desire to have them do that. With versions 4.7.2, this typically meant making them a member of the groups in AD and them making them managers in Google. This is fine unless you are trying to automate those groups in AD via something like PowerShell. Now you must deal with the exceptions of staff members being part of a student groups. They really shouldn't be members; you just want them to be moderators.
Would you like to automate provisioning for your district?
Now, the solution! In version 4.7.3, Google introduced a new option to deal with this is a way that is EXTREMELY helpful. The only problem is that the default setting may wipe out all of your managers/moderators if you don't adjust this before your first sync with the new version. Here are the default settings when upgrading to 4.7.3:

My recommendation is to immediately switch to option #2. This gives you the freedom to just have students in your AD groups, but to add managers to the group in Google for monitoring or moderation and have that stay in place.

This change is a welcome change and has made several of our customers very happy. I hope that you find this as useful as we have.
You might find our blog post helpful: How to Use Profiles With GCDS
At SPS our mission is to enable learning communities to concentrate on their core mission: providing quality education to students, rather than wasting valuable district resources manually wrestling with data. Student Provisioning Services works with K12 districts of all sizes to implement a customized, fully automated data management system which allows you to focus on your mission and your students. Our solution is scalable, allowing it to grow along with your district.