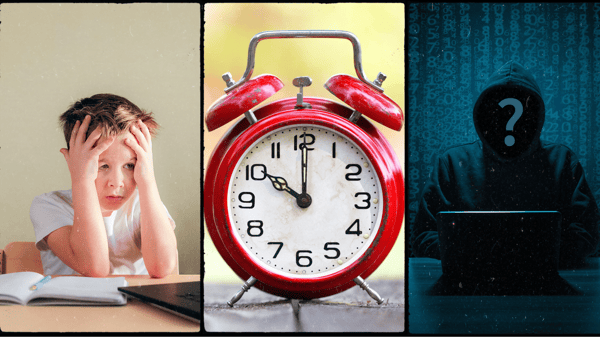 With new students enrolling every Autumn — and some throughout the school year — student provisioning is a lengthy but necessary task. Often completed manually by overworked teaching or IT staff, these administrative burdens take key workers away from core duties.
As more schools adopt online educational resources, the coordination of passwords, permissions, and student data becomes more complex and multi-layered. Inadequate data input and management harms the user experience and operational efficiency and causes disruption for students and teachers. Getting it right is imperative.
Here is a look at five areas that poor student provisioning and management is costing your school.
Security
Even when their provisioning process is cumbersome and inefficient, schools do manage to grant their students access to software and educational materials eventually. However, without the physical reminder of a student locked out of education, deactivating old accounts often gets put on the back-burner.
Old accounts that haven't been deactivated carry a security risk, from hackers who have gotten hold of the details or even disgruntled former pupils. Not to mention being out of compliance with district record retention policies. Automated provisioning solves this issue by deactivating all permissions associated with a user once they are marked as finished at the institution and according to board policy. With an increase in schools being hit by malware attacks and hacks, keeping your existing student's data safe should be a priority.
Time
Manually keeping track of your student influx is a time-intensive chore. Student accounts must be created, maintained, and managed to grant or remove access to various resources or materials needed throughout the year. Unless this work is automated, it falls upon current staff to input these details.
Classroom delays caused by poor management permission and inaccurate data are common. Forgotten passwords pose another potential and daily inconvenience. This requires IT intervention to resolve, which results in classroom delays and staff being pulled away from key work. With better student provisioning systems, teachers can reset the passwords and get everyone back learning quickly.
Productivity
Getting students onboarded is crucial to the smooth running of any educational environment. Manual provisioning delays or mistakes can leave students locked out of the materials they need for their education and classroom engagement. This can cause delays in the classroom that impact teachers and other pupils.
The burden of managing student accounts is often left to teachers, administrators, or IT staff who are already struggling with an overflowing to-do list. Directing staff members away from core tasks comes at a cost to productivity and contributes to employee stress.
Financial and Human Resources
For many districts, managing their staff and how they are allocated is extremely important. Many are overworked or working on so many different projects that tasks like entering new students either get missed or at least not done in a timely manner.
We have seen cases where the clerical staff has been dedicated to this single task so that it can be guaranteed to be done in a timely manner. These tasks are ideal candidates for automation so that these precious resources can be reallocated to work on much more meaningful tasks.
Accuracy
Inputting data manually is prone to error. These mistakes can lead to delays for students who need immediate access to educational materials or permissions.
When data needs to be synced across several different software systems that deal with different permissions, a more holistic approach is best. The process should be automated to respond more dynamically to detailed changes by updating across the relevant systems.
With automated student provisioning from SPS, your local student directory service will be synced with your school's cloud-based productivity tool, whether that is Microsoft 365 or G-Suite. SPS works to ensure that your district is applying best practices to ensure accurate information from the original source, meaning no errors or embarrassing delays, and students ready to learn from day one. Download our scorecard to evaluate your risk or schedule a demo today.



Did you know that you can automate provisioning for your district?