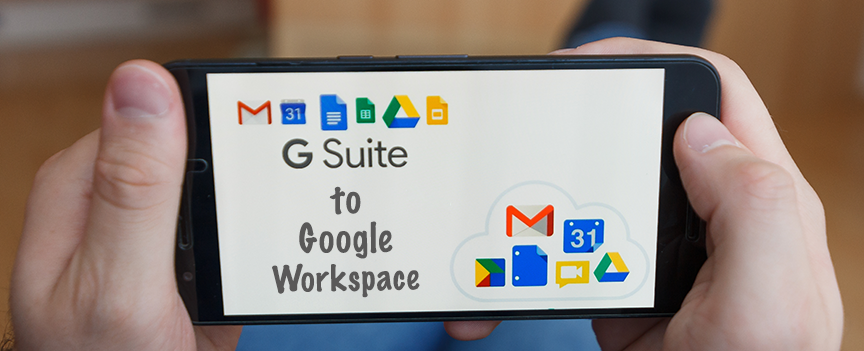 There has certainly been a lot of chatter recently about the sweeping changes that Google made with their transition from G-Suite for Education to Workspace for Education. I think that we all knew that Google wouldn't be free for K12 organizations forever, but nobody really knew when that would change. Well, that time has come for some. Google has introduced four editions to the Google Workspace for Education. Many of SPS customers have been reaching out to see if this change will impact our service or our ability to continue maintaining a pristine directory for them. The answer is: NO, our service will continue as expected. The impact of these changes has more to do with subtle differences that could impact the classroom like Google Meet and the amount of storage that districts have available to them.
Changes in G Suite for Education
The recent G Suite changes for Education have left many institutions uncertain about the implications for their students and teachers. The changes affect the names of Google's education products and the cloud storage available to schools. Here is a summary of the new offerings.
The Free Edition
Google still offers the free version of G Suite for Education, but under a new name, Google Workspace for Education Fundamentals. Schools that use this edition will not see much change apart from the new name and more new features that Google is developing, and there will still be full support for this edition. This product is already available for institutions to use anytime.
Paid Editions
G Suite now has three paid editions with different names, pricing, and features. Each of them builds from the Fundamentals version, adding extra features for security and analytics.
-Google Workspace for Education Standard
This version is priced at $3 per student per year and will be available from April 14th, 2021. It aims to make online learning more secure by bringing additional security features through the Security Center and more in-depth mobile management and audit logs.
-The Teaching and Learning Upgrade
This edition is priced at $4 per license per year and will be available on April 14th, 2021. The upgrade is more focused on educators teaching and evaluating their students more effectively. Key features include:
Improved Google Meet video tools.
Better class experience tools for Google Classroom.
Originality reports that help educators evaluate students' creativity and critical thinking skills.
-Google Workspace for Education Plus
This edition is currently available for purchase, and it is priced at $5 per student per year. It was formerly known as G Suite Enterprise for Education, and it is the premium offering from Google's education solutions. It has all the advanced analytics and security tools that schools may need. Administrators will receive the automatic upgrade that comes with the new name and all the admin console features.
Would you like to automate provisioning for your district?
Cloud Storage Options
Google has also created a new policy for all institutions concerning cloud storage. All Google Workspace for Education products, from the free version to the Plus offering, will have 100TB of cloud storage that all the users will share in an institution. 100TB is equivalent to 100 million Google Docs, 800 million Google Slides presentations, or 400,000 video content hours. However, this policy will be enforced from 2022, which gives schools a chance to adjust their storage needs. Any new Google Workspace for Education customers will have this 100TB storage option from 2022 as well. Institutions with the Teaching and Learning Upgrade package and the Education Plus package will be able to upgrade their storage options based on how many licenses are purchased in their institutions.
Resources to learn more about G-Suite to Google Workspace
There is an excellent opportunity for training directly from Google on everything related to this topic. The link to the schedule and sign up can be found here.
In addition, there was a webinar hosted by the folks at FriED Technology that does a great job of highlighting the very cool NEW features that are coming and the differences between the editions, and how they will impact the classroom. The slide deck can be found here.
You may also find this guide to Syncing your A/D Groups with Google helpful.
Read our article: What is the Cost of Poor Student Provisioning?
Do you want to find out more about how automated student provisioning and identity management can help your IT department be more efficient and keep kids tech-ready from day 1 and beyond?